Silk or satin, pajama or onesie? – About choosing the right bedclothes and nightwear in winter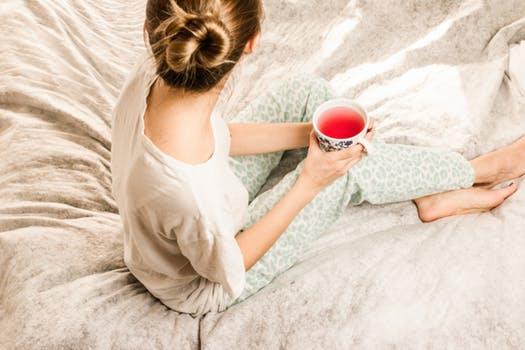 The days get shorter, the temperatures drop... and each year we ask ourselves the questions: Do I actually have to heat my bedroom? Which bedclothes are most reasonable in winter? And what do I wear in cold winter nights that doesn't make me freeze nor sweat.
First of all the good news for all fresh air fanatics: Still at temperatures in the region of double minus figures one can sleep unconcerned with open windows at night. That is even healthy. However, one should not freeze, as that impairs the night's rest, and maybe one can feel listless and unrested. But also who likes it rather comfortable or cozy-warm does not have to feel bad about leaving the window shut during the night. Who belongs to the latter species should make sure, however, to heat his bedroom as few as possible, even better not at all and inrush airing takes place at least two or three times during the day so that an air exchange can happen. By the way - the ideal bedroom temperature in summer as well as in winter is maximally 15 to 18 degrees Celsius.
For a relaxing sleep and to get out of the bed fresh and rested in the morning, it is also important to choose the right bedclothes. It`s especially cozy flannelette-, terrycloth, flannel, jersey- or microfiber duvet covers that suit to winter to get through the night ideally tempered and relaxed. Also, silk bed linnen suits well, as it cools down in summer and heats up in winter. Yet also the classic cotton material as well as satin or percale are reasonable options for the wintertime. In the ideal case winter bedclothes have a distinctive heat storage capacity and act insulating. It should also easily wick away surplus heat and moisture, thus be breathable and moisture regulative. However, when buying bedclothes for winter, it is advisable to not only mind the characteristics of the material, but also one's personal preferences. One person feels more comfortable in soft rough flannelette- or flannel covers, the other prefers the feeling of satin or silk on the skin. So if there is such thing as the ideal winter bedclothes, it is always a combination of the material and the individual preferences.
The situation is similar with nightwear in winter. People have quite diverse preferences here, too. No matter if one prefers sleeping in a sleepsuit or pajama, in a nightdress or a night chemise, in underwear, in a onesie or naked… first and foremost it is about feeling comfortable, as that is one prerequisite for healthy sleep. Especially cotton and terrycloth giving off heat or flannel are popular materials for winter nightwear. People who sweat much during the night should again make sure that their nightwear is breathable. Otherwise, everything is allowed.
Picture: pexels.com